My Dinner at the White House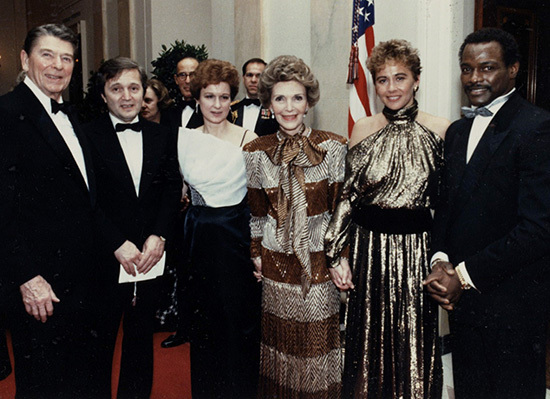 My mother always pointed to Nancy Reagan as the ultimate Lady, one who knew exactly how a lady should behave and never raised her voice or appeared inappropriately dressed. Sadly, my mother passed away in January of 1985 (of congestive heart failure, the same thing that took the former First Lady Nancy last Sunday) so she never got to hear about our first meeting with President Reagan and Nancy in October of 1985 and our second one—at a White House state dinner—the following March.
It was the Reagans' U.S. Ambassador in Charge of Protocol, Selwa "Lucky" Roosevelt, who introduced us to the Reagans after Nick's book Eleni was published in 1984—about the life and death of his mother during the Greek civil war. Eleni was tried and executed by Communist guerrillas because she had organized the escape of her children from their mountain village. In 1985 Eleni became a film starring Kate Nelligan as Nick's mother and John Malkovich as the adult version of Nick, who, while a foreign correspondent for The New York Times, researched the details of her death.
Lucky Roosevelt gave a signed copy of Eleni to the Reagans, who both said in interviews that it was the best book they read that year. They also enjoyed the film. In October of 1985, Lucky invited us to a glamorous dinner party given by her and her husband, Archie Roosevelt, a grandson of Theodore. The guest list included actress Glenn Close, author Jerzy Kosinski, and Abe Rosenthal, the editor of The New York Times. I could not tell you what we ate, but here are some things I remember from that party: Lucky had to install $10,000 worth of new draperies in her house to satisfy the security people. On the night of the dinner, her street in Georgetown was closed, and behind every heavily draped window stood an armed guard. Nick and I both sat at the President's table where he regaled everyone with anecdotes and funny stories filled with details—facts and figures rolled effortlessly off his tongue.
One thing I remember is that, between the main course and dessert, the First Lady took out a compact to re-apply her lipstick. This was something that my late mother had insisted was not proper behavior, so I sent a silent mental telegram to heaven, telling her, "If Nancy Reagan can do it, then I can do it."
As the dinner ended, both tables of guests moved toward the living room. I found myself walking beside the First Lady and I exclaimed to her "He's such a marvelous story teller!"
I quickly forgot my comment, but Nancy remembered it, because she noticed and remembered every detail and everything that anyone said.
A few months later, early in 1986, Nick and I received an invitation to a state dinner at the White House to be given by the Reagans on March 18 "on the occasion of the visit of the Prime Minister of Canada (Brian) Mulroney and Mrs Mulroney." I began an arduous search for a dress and, with Nick's help, I settled on one with a long black skirt and a pleated white bodice, folded like a fan. We discovered it at a store called Sumiko, in Framingham, MA. It cost $700.00--more than my wedding dress--but Nick loved it and insisted I buy it.
On March 18, 1986, in Washington, we inched forward to the White House door in a rented limousine and finally were welcomed by military aides who checked our passports. We were led down a long hall and into a room where the roped-off press waited and our names were announced. The aide with the microphone whispered to me "I like your dress". I was in heaven. At the top of a staircase, aides handed us our table assignments. Nick was at table nine, I was at 11. Little did I know what a significant number it was.
The U. S. Marine Orchestra serenaded us to the East Room, decorated with white tulips and flowering cherry trees strung with tiny white lights. We began to recognize celebrities, including ballerina Cynthia Gregory, Fiat chairman Gianni Agnelli, columnist William F. Buckley and Prince Karim Aga Khan with Princess Salimah Aga Khan, who was wearing a double row of diamonds interspersed with emeralds as big as marbles.
The orchestra broke into "Ruffles and Flourishes" as a voice announced the Reagans and the Mulroneys. The first lady was wearing a floor-length Galanos gown in wide horizontal stripes of sparkling gold and silver.
They formed a receiving line which we were directed through, husbands first. (Unattended ladies, like Kate Nelligan that night, were provided with a military escort.) Then we headed toward the State Dining Room with tables decked with gold candlesticks, gold flatware and gold bowls of red and white tulips. And of course Nancy's famous Reagan china service that cost $200,000 (but from private, not taxpayers' funds.)
I was led to a table in front of the fireplace and when I saw Mila Mulroney led to a seat across from me, I began to realize—yes there he was! I was at the President's table—an incredible favor to a non-famous person like myself.
In retrospect I think it was the remark I made to Nancy about the President's storytelling that won me that place, because I later learned that the First Lady herself handled every detail of the seating for every event.
The others at the President's table were: Walter Payton, the famous running back for the Chicago Bears, Allen Murray the chairman of Mobil, Donna Marella Agnelli, Burl Osborne, president and editor of the Dallas Morning News, and Pat Buckley, who sat next to the President, smoking throughout the meal.
Once again President Reagan kept us entertained with non-stop stories. I was so rapt that, when a waiter stood behind me holding a bowl, the President had to gesture to me, saying, "You'd better take some salad." He was telling a series of stories about ghosts his family had encountered in the White House—stories that I like to repost every Halloween on my blog.
I remember every detail of that evening—both the embarrassing ones and the glorious ones. Embarrassing: after dinner ended and everyone headed to the next room for demitasse and after-dinner liqueurs, I sidled around our table to see if I could snitch the President's hand-lettered place card. As I closed in, the majordomo, a genial white-hair gentleman, handed me the place card. "Somebody always comes to get it for a souvenir", he said, smiling.
Glorious moment: after a concert in the East Room, the Reagans danced to tunes from Broadway musicals, played by the Marine Dance Band. Before the clock struck midnight, they started to head off toward their private quarters and, as they passed, the First Lady suddenly stopped and seized my hand and Nick's saying, "We must have a photograph with the Gages before we go." I lost the ability to speak. Nancy pulled Kate Nelligan and Walter Payton into the picture. Flashbulbs popped and then the Reagans were gone. I wouldn't have been surprised if, at the stroke of midnight, I turned into a pumpkin.
Here's what I know about Nancy Reagan, who is now reunited with the love of her life: she noticed every detail, she was the power behind the throne, and my mother was right, she was a great lady.